Internal Medicine
Foundations and therapeutic concept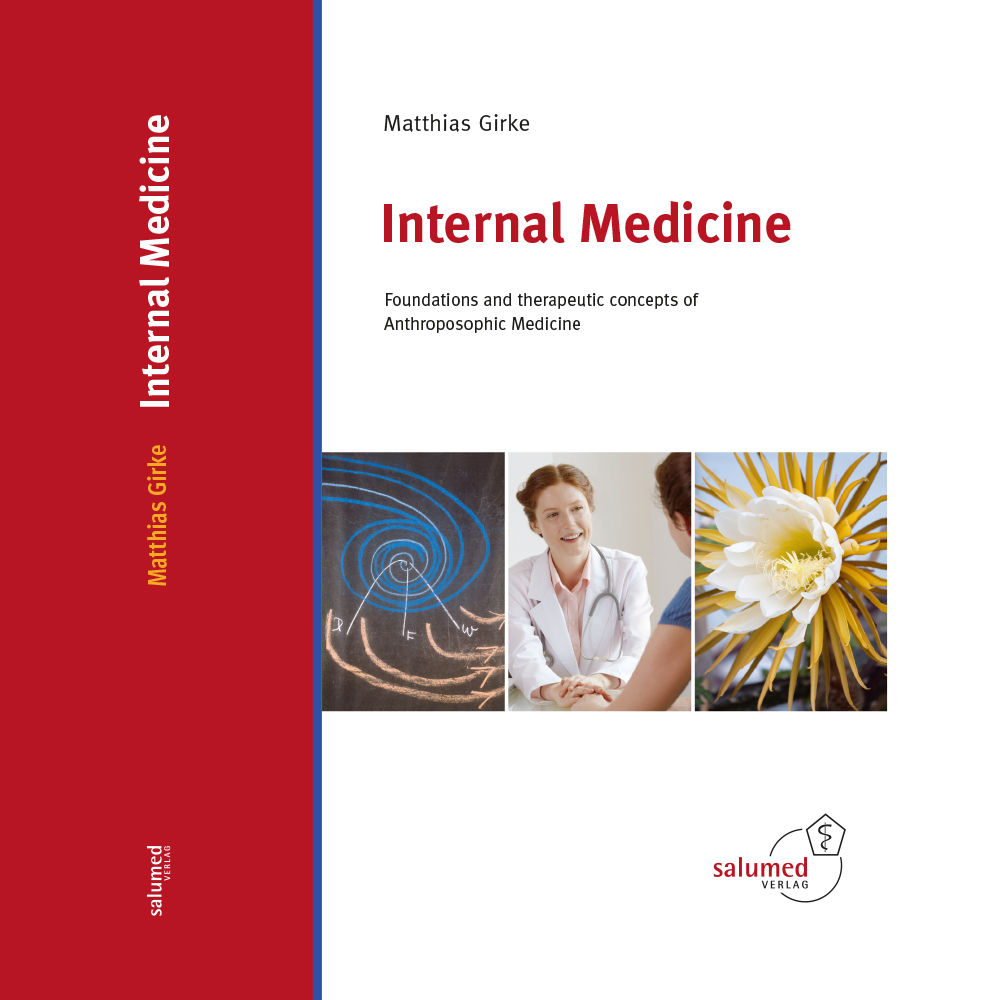 Matthias Girke
Internal Medicine from an anthroposophic view — the standard work for clinic, practice and study in the second, revised and extended edition. In his book, Matthias Girke elaborates upon the holistic approach to anthroposophic medicine, i.e. seeing the patient as a whole. He strongly encourages a precept in which body, mind and spirit are equally examined.
International orders can be completed via PayPal! Email to: info@akademie-havelhoehe.de requesting to order the book, and giving your delivery address, and how many books are wanted. One copy costs 149,00 Euros + shipping costs with DHL (e.g. to the US 37,00 Euros).
Matthias Girke comprehensively explains all the important sub-disciplines of internal medicine from the viewpoint of a holistic human understanding of Anthroposophic Medicine. Whether pulmonology or gastroenterology, oncology or diabetology — each topic is systematically and practically explored. The textbook serves as a fundamental guide to the anthroposophic science of man, disease and pharmacology. Therefore, it is very suitable as an introduction to Anthroposophic Medicine. Even physicians, who are already familiar with the treatment concepts, can complement their knowledge purposefully.
reviews/comments:
"I would like to take this opportunity to comment on this remarkable textbook. When I first leafed through the original German edition, the fact that nearly every topic was membered according to the anthroposophic three-and four-foldedness seemed artificial. Later, when teaching in Europe, South America, China and Taiwan I suddenly found this book to be an invaluable source of inspiration, both on how to convey a really holistic picture of what we are as human beings and for therapeutic approaches. This book contributed to my understanding of how, down to the very details of anatomy, physiology, pathology and psychosomatics, each human organ really is human, and really is a small human within the large human. When teaching from this perspective, one can have the experience, and often the feedback, that one is able to bring warmth and vibrant life to conventional medical teaching, especially if one is able to creatively meditate on the contents of Matthias Girke's book (i.e. to think and feel the details in living relation to the whole). The book is also extremely well referenced for each topic, be it acute and chronic diseases, pain management, biographical issues and spirituality, how to care of the dying in dignified way, herbal, anthroposophic or conventional medicine." Prof. Dr. med. David Martin
"This is THE textbook of anthroposophic internal medicine, comprehensive and brilliant. Based on Dr. Girke's articles and teaching, I think physicians will be very glad to have access to his body-life-soul-spirit-viewpoints on a great number of conditions and therapies." Alicia Landman-Reiner
La dénomination « médecine Interne » chère aux anglo-saxons et en usage dans les pays germanophones depuis la fin du XIX e siècle, reste encore trop méconnue et incomprise en France en dépit de son dynamisme et de sa place essentielle dans le système de santé, notamment au sein des hôpitaux. C'est en ces termes que s'exprime la Société Nationale Française de Médecine Interne sur son site snfmi.org, en citant Fred Siguier avec Pierre Godeau dans son livre « Les héritiers d'Hippocrate » : « Le spécialiste en médecine interne est la contrepartie naturelle de l'excès de spécialisation ». Souvent considérés par leurs collègues spécialistes comme de « super médecins généralistes » travaillant généralement en milieu hospitalier, les internistes sont, en réalité, de véritables spécialistes, qui assurent un relais essentiel entre la médecine générale et la médecine spécialisée d'organe. Dans son livre Internal Medicine, le Dr Matthias Girke passe en revue les principales disciplines associées à la médecine interne, sous l'éclairage de la médecine anthroposophique. De la pneumologie à la gastroentérologie, de l'oncologie à la diabétologie, chaque thématique est abordée de façon précise et systématique, tout en faisant une large part aux avancées actuelles de la médecine universitaire dans l'optique d'une médecine intégrative. Très complet, il expose les fondements et des concepts thérapeutiques de la médecine anthroposophique et explore de manière précise et approfondie un grand nombre de pathologies, en intégrant les connaissances et les études les plus récentes quant aux mécanismes qui les sous-tendent. De nombreux cas d'anamnèses illustrent la pratique de la médecine anthroposophique en milieu hospitalier, à l'hôpital Havelhoehe de Berlin. Des préconisations différenciées pour chaque pathologie constituent le coeur de ce livre, et en font un véritable ouvrage de référence à l'attention des professionnels de santé. Un ouvrage incontournable pour découvrir ou approfondir la médecine anthroposophique. Le Docteur Matthias Girke est médecin interniste, diabétologue et spécialiste en soins palliatifs. Cofondateur de l'hôpital Havelhoehe de médecine anthroposophique à Berlin, il y a dirigé pendant plus de 21 ans le service de médecine interne. Il exerce actuellement comme conseiller et en consultations externes de ce même hôpital et dirige, depuis septembre 2016, la section médicale du Goetheanum, en Suisse. - Forum médical, Weleda